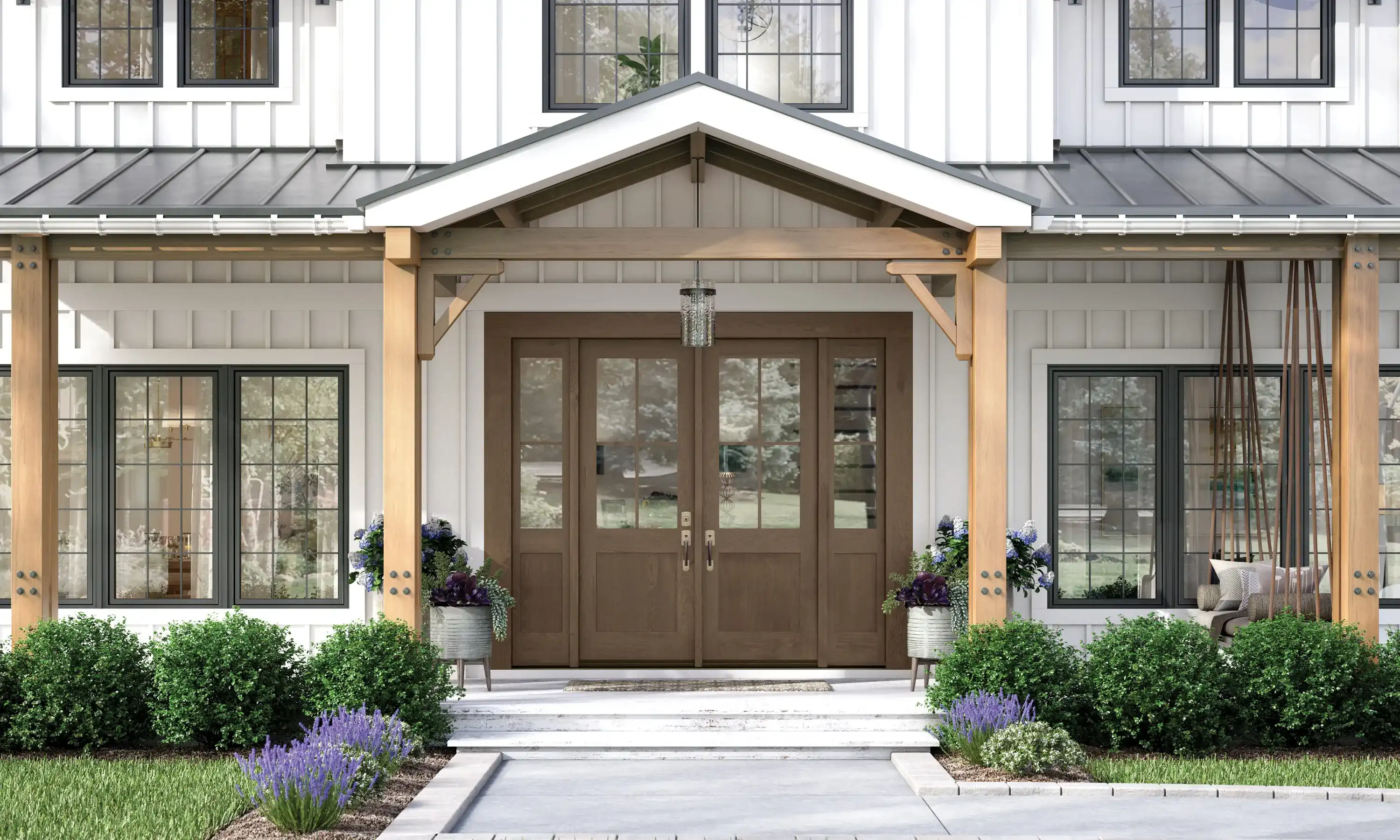 1 august 2022
When to Replace Front Doors
---
Your front door makes a big impact on your home's curb appeal so it's important to have one that functions properly and doesn't look dated. 
If you're thinking it's time for an entry door upgrade, first learn the signs that it's time to replace a front door.  
1. Your Front Door Has Damage 
If your front door has suffered extensive damage, it's imperative to replace it. A broken front door can lead to security issues and safety issues. A broken front door makes your home more vulnerable to possible break-ins and thieves.  
2. Your Front Door Has Become Hard to Open/Close 
If your entry door has become difficult to open and close, you might be looking at a door replacement. Old wooden doors can warp over time, especially in areas with extreme temperatures. An experienced DIYer might be able to repair a warped door, but for many replacing an old, warped door might be an easier solution. If you're ready to replace you front door, consult our front door buying guide for helpful tips. 
3. You've Noticed Moisture Issues 
Interior condensation

Condensation

Moisture that forms on a surface. This could be a result of a difference in temperature between the surface and the air, or high humidity in the home.

GO TO GLOSSARY

can indicate excess humidity in the home, which can possibly lead to mold, mildew, and warping. The home's humidity must be addressed and likely the door needs replacing.  
4. You Can Feel Drafts Coming From Your Door 
If you can feel a steady stream of air coming through the bottom of your front door, you can try to solve it on your own with weatherstripping

Weatherstripping

A strip of resilient material designed to seal the window or door frame to reduce air and water infiltration.

GO TO GLOSSARY

or replacing the threshold

Threshold

A protective cap that covers a door sill. Typically sloped to the outside to move water away.

GO TO GLOSSARY

, but depending upon the age of the door, replacing it could be a better option.  
5. Rotting Wood Has Become Noticeable 
Rotting wood is a clear sign it's time for a new front door. A door with rotting wood can become too soft and not support the door structure, which can lead to home security issues.  
6. Dings and Dents Have Made Your Door Unsightly 
Dings and dents make for unsightly front doors, but bigger cosmetic defects like cracking can mean it's time for a new entry door.  
7. Rust Spots Have Developed on Your Door 
Any sign of rust on an entry door can lead to structural compromise over time. Rust can be tough to remove and replacing a front door is likely the best move.
Time to replace your front door? 
Decide it is time to replace your front door? At Marvin Replacement, we proudly offer entry doors from TruStile®, a Marvin Brand. With virtually endless style and design options, a TruStile front door will boost your home's curb appeal while offering quality craftmanship.  
---
Back to All Articles