Why
Marvin Replacement?
Marvin Replacement provides personalized service at every step of the replacement process. We custom build your windows and patio doors to exact specifications that fit your home. Our experts guide you through the entire process and a personal customer success manager is there to handle the details of your project.
Our Process
Replacing your windows or doors requires a thoughtful approach because of the importance they have to the beauty and function of your home. At Marvin Replacement, we carefully consider each detail specific to your home to help provide you better living with durable and stylish windows and doors.
EXPERT CONSULATION
A Marvin Replacement design consultant will provide a complete analysis of your windows and doors to determine your specific needs—including climate considerations and other factors. They will answer all your questions and provide a detailed, custom project quote based on your specifications.
CUSTOM DESIGNED FOR YOUR HOME
A measure technician will review your order, measure you window and door openings, and verify your installation needs. Your windows and doors are manufactured your exact needs and specifications.
SEAMLESS INSTALLATION
Marvin Replacement installers will carefully remove and dispose of your old windows and doors, then expertly replace them with your new custom-made windows and doors.
THERE WHEN YOU NEED US
From our comprehensive warranty to our unparalleled customer service, we go above and beyond to ensure your windows and doors provide better living for your home.
What to Expect at a Design Consultation
During your in-home design consultation, a Marvin Replacement design consultant will learn more about your project, review window and door options that fit your needs, and answer any questions you may have. They will measure your windows and doors to create an accurate quote.
After taking measurements, you'll work together to design your new windows and doors to build your custom project quote. Once you have your quote, you can sign a contract to get started on the work right away.
Schedule Free Consultation
Manufacturing at Marvin
We carefully review every aspect of your project, from ensuring your permitting and engineering are in order, down to verifying every detail—like your window size, glass type, weatherstrip color, and hardware choices—of your order before we send it to one of our factories.
Then we custom build all your windows and doors with precision craftsmanship to fit your home. Your customer success manager will keep you updated on the progress of your order and provide helpful information so you feel prepared for installation day.
Factory Team Builds Your Order
Ultrex
®

Technology

We created Ultrex fiberglass to provide a window and door material that you don't have to worry about. Our Ultrex fiberglass is virtually maintenance-free, resists scratches, dings, and dents so it continues to look stunning.
Provides 8x the strength as vinyl

Allows bigger views because its strength means we use less material

Slide easily to open and close

Resists fading, chalking, scratches, dings, and dents
What is Ultrex?
Installation
Our Installation Process
We guide you through the installation process and provide information before installation day arrives, so you know what to expect. Our installers will work diligently and respectfully while installing new windows or doors in your home.
1
---
Project Manager Walk-Through
Your project manager will conduct an initial walk-through on installation day and can introduce you to your Marvin Replacement installers.
2
---
Removal Of Old Windows Or Doors
Our installers will carefully remove your old windows and doors before preparing the opening for new windows and doors.
3
---
Installation
Your installers will expertly place your windows and doors—true and plumb—to ensure a tight fit. They'll use flashing and caulk, which can take up to 72 hours to cure, to help defend your house against any air leaks or possible water infiltration.
4
---
Final Walk-Through
Once we've completed your window or door installation, your project manager will conduct a final walk-through to make sure everything is to your satisfaction. We'll also explain how to properly operate your new windows or doors and answer any other questions you may have about your new windows and doors.
Marvin Replacement Installers
Marvin Replacement Installers
We take extra steps to ensure that your window or door project gets handled by experts. Plus, we back up our work with a five-year installation warranty.
How Do Windows + Patio Doors Get Installed?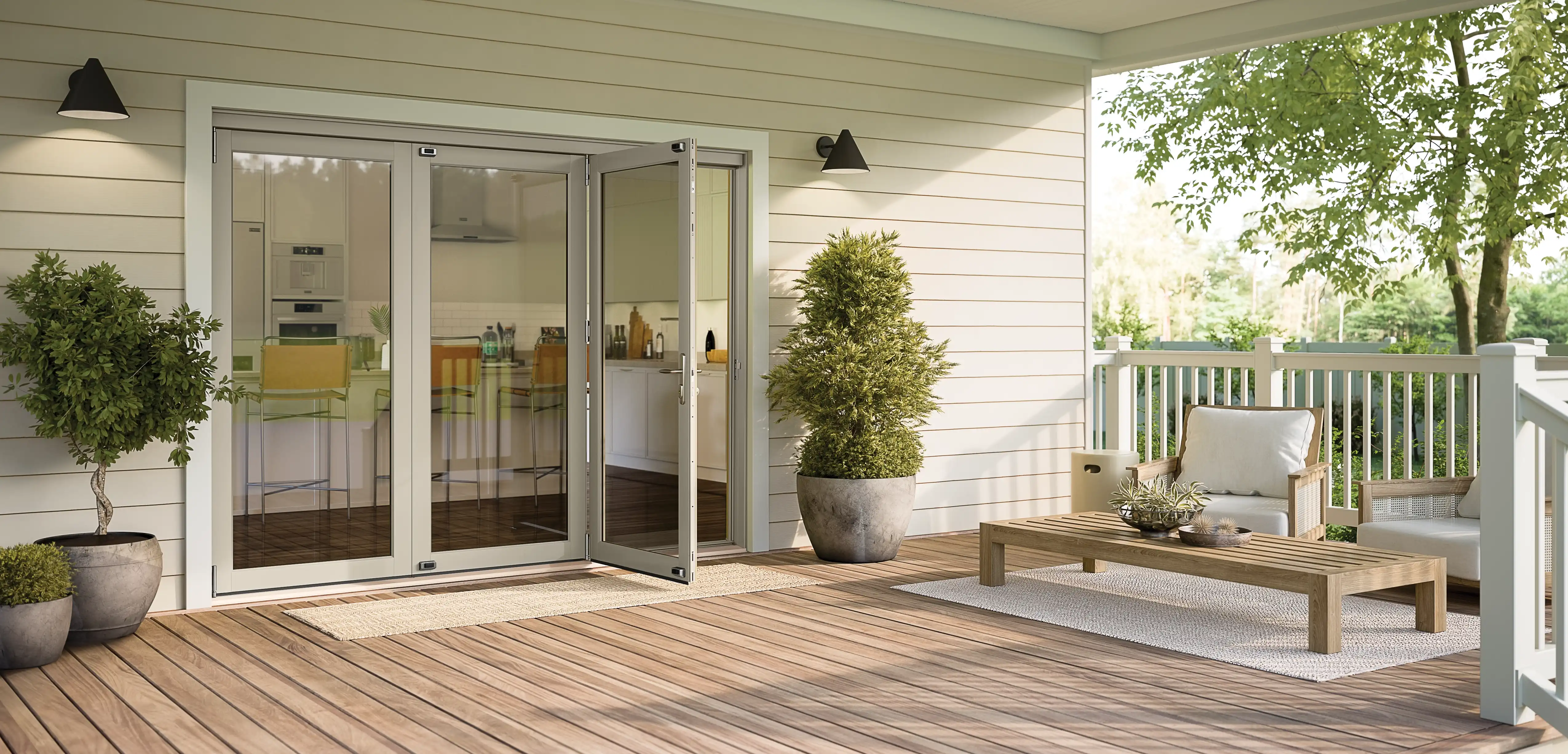 Marvin Replacement Warranty
Marvin Replacement proudly provides a Limited Lifetime Warranty with our windows and patio doors.
Download Warranty
A Legacy of Better Living
Since our founding more than 100 years ago we've sought to provide better living to people the best way we can. We continue to prioritize providing a personalized approach with custom-designed windows and doors that best fit your home.
Learn more about Marvin Windows