24 October 2022
Front Door Trends You Should Know
---
Bigger, bolder and brighter are among the top front door trends showing up in neighborhoods. Check out our top front door ideas to update your entryway.  
Bigger Doors 
As you consider replacing your front doors, bigger front doors and double leaf entry doors have grown in popularity for a grand entrance to your home. The look also makes a home's curb appeal pop. At Marvin Replacement, we proudly carry  TruStile®, a Marvin® brand, for a widely customizable selection of entry systems with double doors. 
More Light 
Looking for more natural light in your front entryway? Choose from a variety of transom

Transom

A window above a window or a door. Transoms are usually stationary.

GO TO GLOSSARY

and sidelites

Sidelites

A sidelite is a pane of glass located on one side or both sides of an operable or inoperable door. A sidelite can be operable or inoperable, too. Sidelites often have their own frame or come as part of a complete assembly. Sidelites can also have decorative bars.

GO TO GLOSSARY

to easily add more natural light. Transoms and sidelites can come in decorative styles for additional design interest. Marvin Replacement offers decorative glass options, like Frost, Obscure, and Rain, to balance natural light and privacy 
Coastal Style Entry Doors 
Opt for more natural  light with a coastal-style front door, featuring more windows than other entry doors. Coastal doors tend to come in lighter earth tone, on-trend colors with lighter colored hardware,  but work best with homes that have coastal design elements.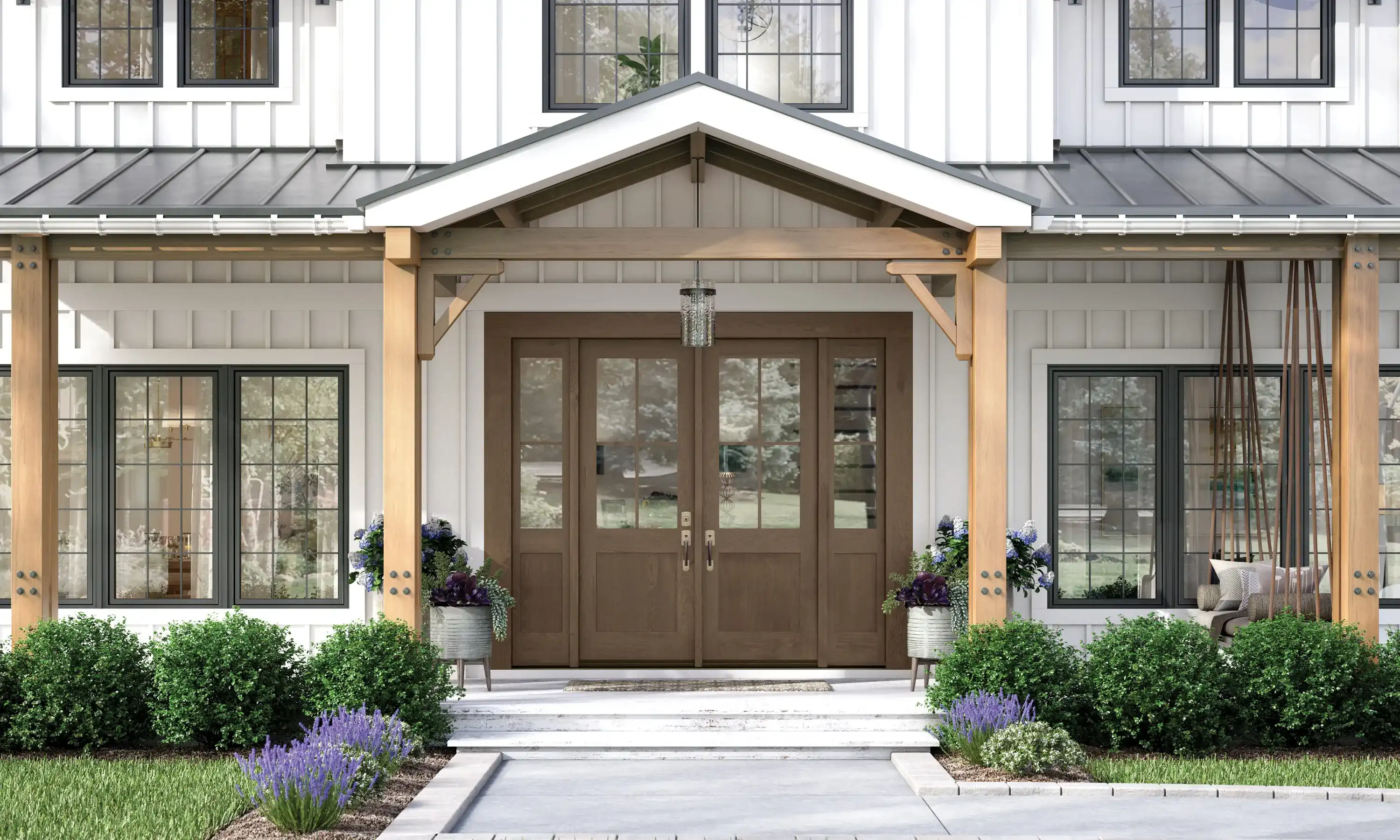 Farmhouse Style Doors 
Farmhouse doors showcase natural wood, exude a rustic charm, and often feature dark hardware.  
Farmhouse doors remain popular and let natural light into a home through elegant design. TruStile's Modern Farmhouse doors use sidelites and transoms to increase natural light while showing off sleek design lines.  
Front Door Colors 
Your front door offers a first impression of your home and the right color can make a house look stunning. Picking the right front door color depends on what color scheme you have for your exterior but consider these colors that have become on trend. 
What Color will Bring the Most Value to Your Home? 
Zillow partnered with Thumbtack in 2020 to help sellers better estimate the costs of five manageable projects worth doing prior to listing a home.  
Zillow found homes with black doors sold for up to $6,000 more than similar houses.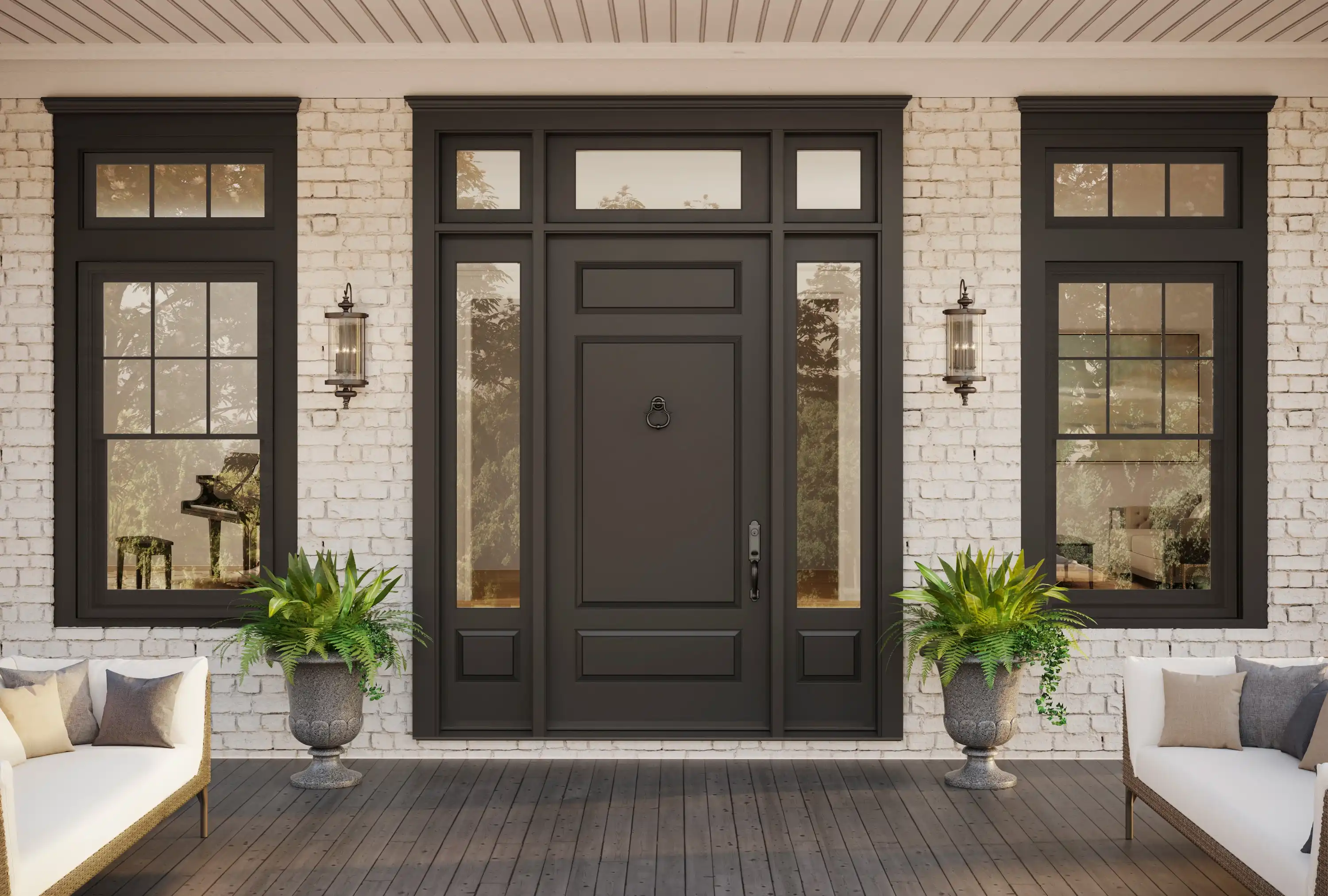 Black 
Black doesn't seem like an appealing front door color on the surface, but it provides a timeless look that can complement several door styles, especially farmhouse entry doors.  
Red 
Red has the longest wavelength in the color spectrum and certainly catches the eyes. It works especially well on front doors and sets a welcoming feeling. Red can also complement your landscaping for added visual appeal.  
Light Green 
Benjamin Moore, Sherwin-Williams, and PPG all picked light shades of green for their colors of the year in 2022 because the colors symbolize a rebirth, like the spring season. The soft green colors also fit into a theme of sustainability and green initiatives.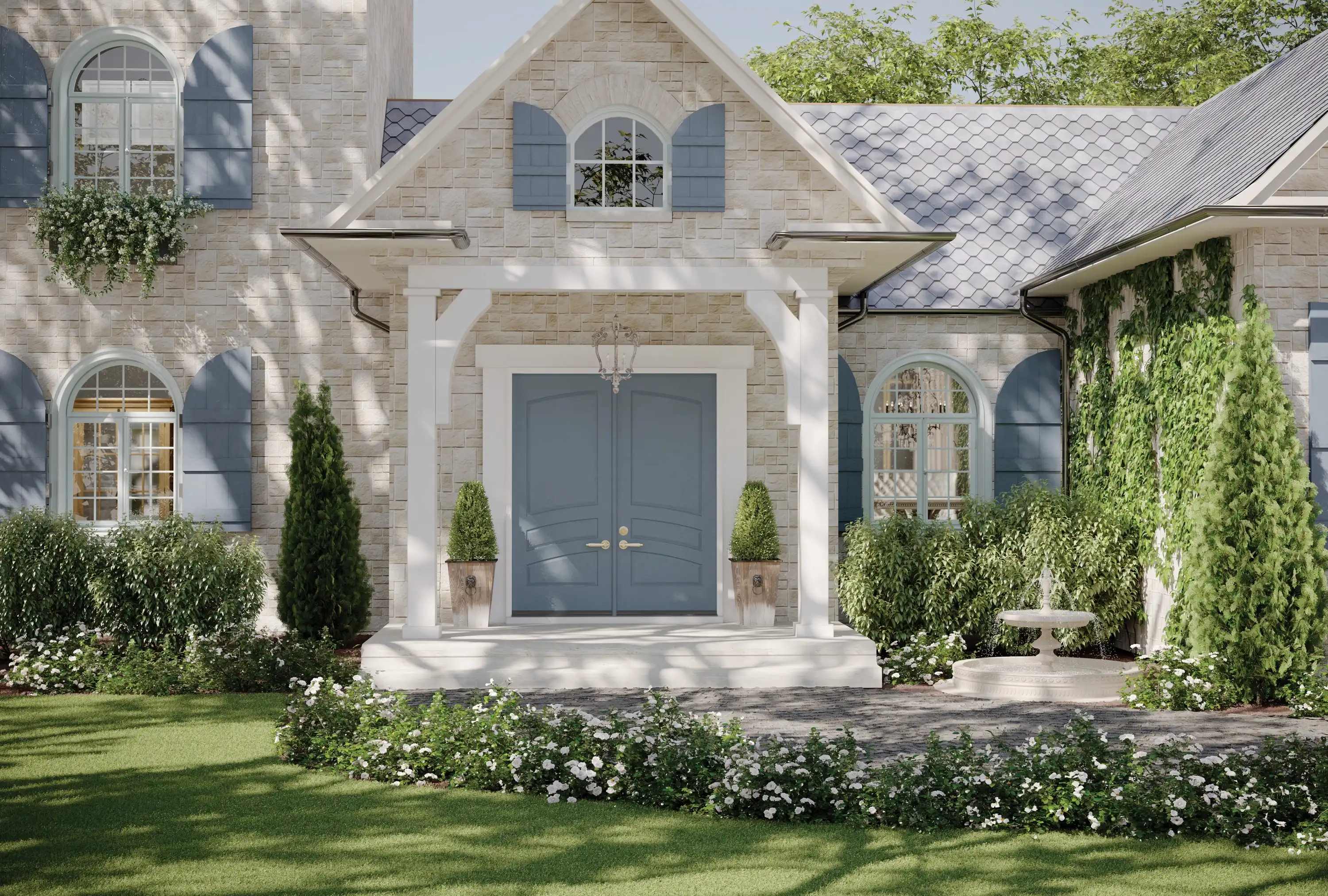 Blues 
If your home features bold exterior color, a soft blue shade can complement the look. A lighter, warmer blue can create an inviting look to your home's entrance
Open Up to the Possibility of a New Entry Door 
Explore all that TruStile, a Marvin Brand has to offer for replacement front doors. When you work with Marvin Replacement, we'll handle every step of your project from consultation to installation.  
---
Back to All Articles