19 June 2023
What is an Egress Window?
---
Egress windows are required windows to provide a secondary emergency exit and can come as different types of windows but must have a large enough opening to pass through. Learn more about egress windows and possible requirements.
Egress Window Definition
Egress means a place or means of going out as in an exit. Homes need egress windows for secondary emergency exits. Bedrooms, basements with one or more sleeping room, habitable attics, and living spaces require egress windows to provide an escape in the event of a fire or other emergency that blocks a primary exit. Egress windows must meet specific dimensions.
Egress Window Size Requirements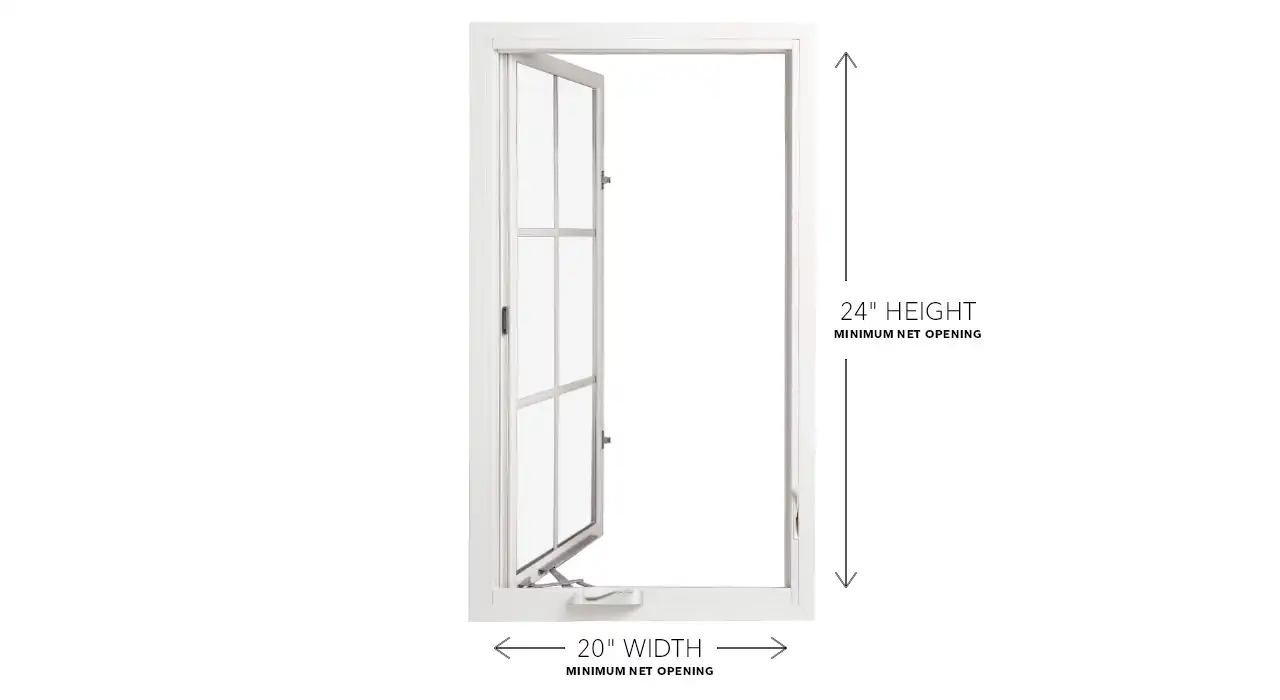 The International Residential Code (IRC) states egress windows need:
• A minimum net opening width of 20 inches.
• A minimum net opening height of 24 inches.
• A minimum net clear opening of 5.7-square feet.
• A sill or bottom of the window no more than 44 inches above the floor.
• To open without any tools or keys.
If the emergency escape or rescue opening appears below a deck, porch, or cantilevers, they need to have a minimum height of 36 inches and a minimum width of 36 inches.
Some states and municipalities might have their own egress window code that supersede IRC guidelines. Check with your local building inspector or city building code to learn the requirements for your home.
What's the Difference between an Egress Window and a Regular Window?
There is no difference between an egress window and a regular window. A regular window must meet size requirements to serve as an egress window. Casement and slider windows get used as egress windows because they can provide large enough openings, though slider windows need a larger size because one sash moves horizontally.
Types of Egress Windows
Egress windows can come as regular window types. Slider, casement, awning, double hung, and single hung windows commonly get used as egress windows, provided they meet dimension specifications. If you're renovating a home, you might need to install larger windows to meet egress requirements. Note: egress and building code requirements vary by municipality. It's best to consult with your local building official for accurate requirements.
Choosing Egress Windows
Marvin Replacement offers stylish casement and slider windows in sizes that meet egress window requirements. Casement windows open wide to provide a large enough opening space for egress guidelines. Marvin Replacement Casement Windows can come with a Clear View® hinge, which resides at the edge of the frame to provide an uninterrupted view and bigger net clearing area.
Marvin Replacement can size slider windows to meet egress specifications with a variety of configurations for unique looks and functionality. Our slider windows can come in equal or unequal sash size configurations as well as triple sash assemblies. Our slider window handles remain away from the viewing area to maximize your available daylight.
Egress Window Benefits
Installing a casement or slider window as an egress window can bring additional benefits to the room. A casement or slider window used for egress brings more natural light to a room and additional ventilation. Since casements and slider windows open wide you can take full advantage of sunny days and cool breezes. Or you can open each just enough to cool a room down while you relax.
FAQs
What's the best place for an egress window?
Each sleeping room needs an egress window, however, you might want the window located in a certain area to take advantage of natural light or breezes. Depending on how a sleeping room gets used, for instance as an office or workout space, you might want sunlight to hit it at different times of the day. Staring into the sun while running on a treadmill isn't ideal nor is having the sunset into your home office. Having an egress window orientated toward the sunrise, however, might feel nice.
Ready to Replace Your Windows?
Learn more about our casement and slider window options and configurations to find the right window for any room in your home with Marvin Replacement. Schedule a free, no-pressure design consultation today with a Marvin Replacement design consultant for an up-close view of what you can expect with our durable Ultrex® fiberglass windows.
---
Back to All Articles