---
Determining when it's time to replace your windows can depend on the specific issue you're facing. If you're experiencing a broken window or damaged frame, you'll likely want to take immediate action—but if you're looking to refresh your home you might take a little more time to decide.  
It's important to know the signs it's time to replace your windows because if some issues persist, it can lead to bigger and more expensive problems.  
Here are some clear signs it's time to replace your windows.
Broken Glass/Damaged Window Frame
If you've got a broken window pane or there's visible damage to a window frame on the exterior or interior, it's time to replace your window. Broken windows are dangerous, and any opening can allow water to seep in, which can lead to mold and mildew issues. Damaged window frames can also invite pests, and some pests, like termites, can severely damage a home.
Water Issues  
If you notice any water stains on your window frames or signs of wood rot, it's time to replace your windows. Wood rot is either white/wet rot, brown/dry rot, or soft rot. White/wet rot is whiteish or light yellow, and will feel spongy. Brown/dry rot turns wood into a deep brown color. Soft rot leaves a honeycomb-like appearance on wood, and is mostly found on fallen trees, though if conditions are right, like extreme temperatures, it can appear in homes.
Foggy Glass
When the temperature difference between the indoor and outdoor panes of glass increases and the humidity in your home reaches certain levels, windows and doors start to show condensation. Condensation is an accumulation of saturated warm air on a cooler glass surface.  
Condensation on the outside of your windows should not raise alarm, but if you notice condensation on the inside of your windows, it means your windows are leaking air and/or your home is humid. Find out what window condensation is and what it means.  
If you see condensation between the panes of glass in your double or triple-pane windows, it means that the air-tight seal has failed, and insulating gas has escaped.
Drafts 
If you can hear a slight whistle around your windows, you likely have a draft. You can also check for drafts by holding your hand at the top or bottom of the window sash where it meets the frame. If you feel air on your hand, you have a draft.  
Windows Won't Open or Close 
If your windows won't open or close easily, it's time to replace them. Using a book to keep a window propped open isn't a long-term solution. The years of opening and closing windows do add up and can eventually cause cracks on the window frame. Dust and dirt can accumulate as well and make windows difficult to open and close. A poorly functioning lock can prevent proper sealing and can be one of the first signs that it's time to replace your windows.
Home Update 
If your windows look dated, or you desire a home makeover, then investing in new windows is a good idea. Window replacement has an average investment recovered rate 61-68% of the cost when you sell your home, according to Remodeling Magazine.
High Energy Bill 
One of the best reasons to replace windows is if your energy bill is through the roof. Energy efficient windows can help save you money. The National Fenestration Rating Council estimates the average American household spends $1,500-$2,500 annually on energy bills with 45% of that going toward heating and cooling costs. 
The U.S. Department of Energy estimates a homeowner can save between $101-$583 a year on average, if they're replacing single pane windows with ENERGY STAR windows. For double pane windows, those savings range between $27-$197.*  
*Ranges are based on the average savings among homes in modeled cities. Actual savings will vary based on local climate conditions, utility rates, and individual home characteristics. 
Need Soundproofing 

If you live in an area with a lot of noise from traffic or an area with a lot of noise pollution, new windows with Sound Transmission Class

Sound Transmission Class

Sound Transmission Class helps measure a window's ability to reduce sound. A higher STC rating, the better it can reduce noise. STC ratings typically range between 18-20 for double pane windows.

GO TO GLOSSARY

or Outdoor-Indoor Transmission Class

Outdoor-Indoor Transmission Class

Outdoor-Indoor Transmission Class is a rating that measures the sound transfer between outdoor and indoor spaces. It's important factor for homes located along busy streets or along a flight path for an airport. The higher the OITC rating, the better the resistance to sound transmission.

GO TO GLOSSARY

glass can help reduce the impact of exterior noise. Both types of glass have increased pane thickness that can help dullen outside sounds. 
---
Back to All Articles
Why Energy Efficiency Matters
Energy efficiency is a term that gets tossed around frequently but what is energy efficiency and why does energy efficiency matter? Energy efficiency can mean doing different things around the house to prevent heat loss or limit the amount of heat that enters a home.
Find Out Why
Ways to Reduce Energy Loss with Windows
The U.S. Department of Energy estimates that 30% of a home's heating energy is lost through windows while 76% of sunlight that falls on standard, double pane windows turns into heat during the summer.
Ways you can save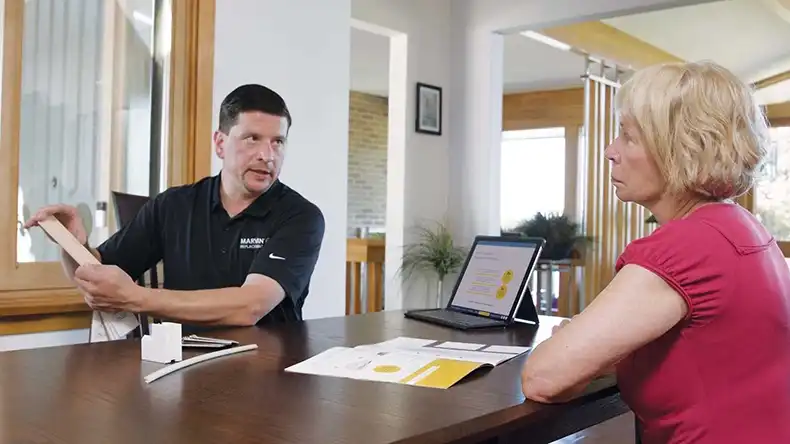 How to Choose Energy Efficient Windows
Thinking about ways to make your home more energy efficient? Making your home more energy efficient can improve your home's heating and cooling performance—while also helping the environment. You can work directly with Marvin Replacement to evaluate energy efficient window options that will work best for your region.
Get Started
Schedule your free consultation
If you're ready to get started, discuss your replacement window and door options with a Marvin Replacement design consultant. We're here to answer any questions you may have, and help make your project easy.
Schedule Your Consultation