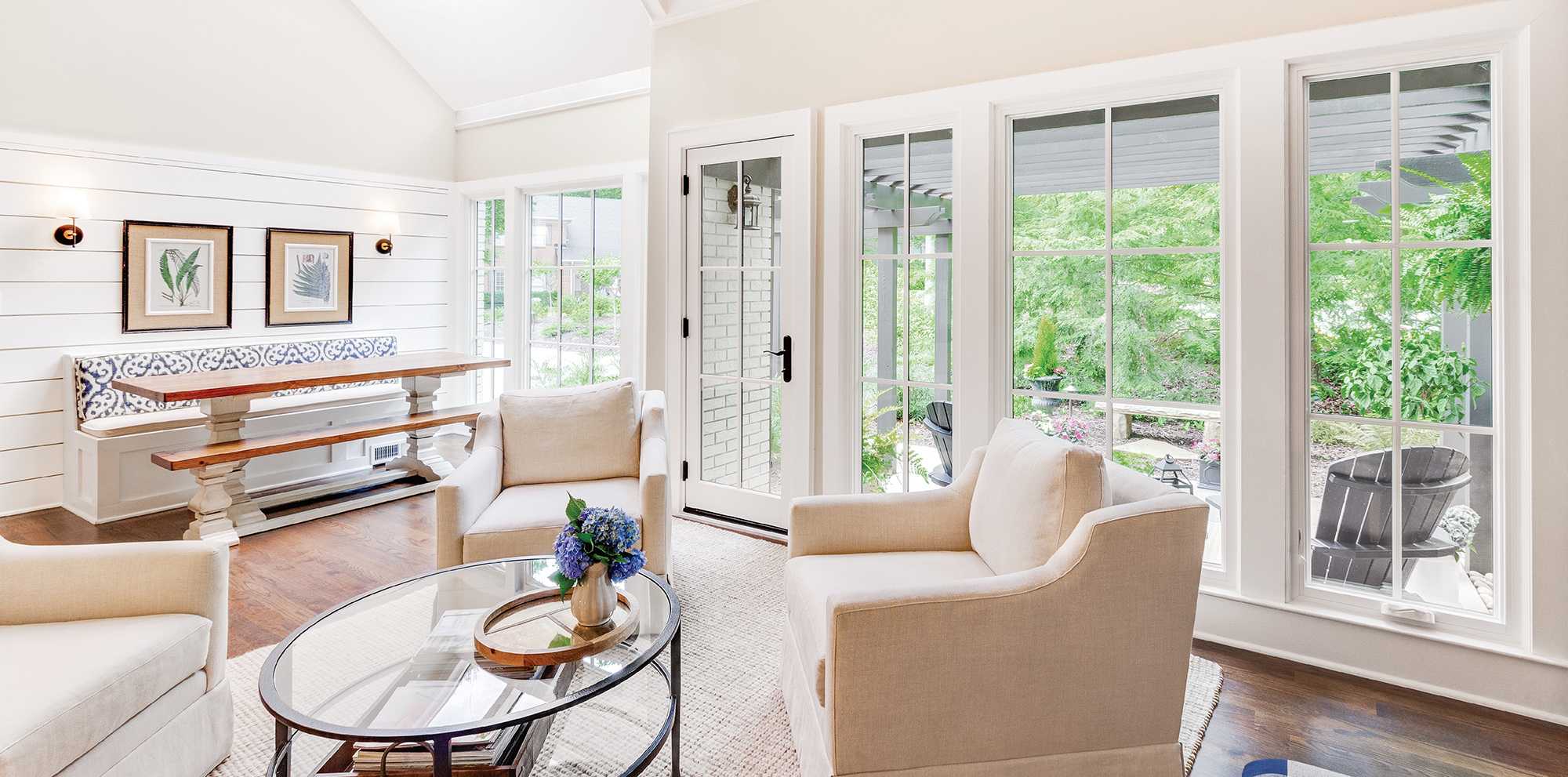 1 august 2022
Ways to Add Natural Light to Your Home
---
Incorporating more natural light into homes has become more of a priority for homeowners and trade professionals. In fact, 70% of homeowners and 80% of trade professionals say access to natural light is a top contributor to the feeling of well-being at home. Here are some ways you can add natural light to your home.
1. Add More Windows 
Adding more windows will have the most impact on increasing natural light in a home. Bay and bow windows can let in a deluge of natural light but you can also add special shape windows, like trapezoids and triangles, above existing double hung windows.  
When looking for new windows, pay attention to the windows' visible transmittance. A higher VT number maximizes daylight and potentially save you money on artificial light. 
2. Light-Colored Walls 
Lighter colors, like white, can reflect light better than darker colors and give the impression that a room has more light.  
3. Reflective Items 
Mirrors, glass tile backsplashes, ceramic tiles, and chandeliers are just some of the items in your home that can help reflect light and increase the impact of natural light.  
4. Patio Doors 
Patio doors, especially Marvin Replacement Bi-Fold Doors, can dramatically increase the natural light in your home. Most homes have patio doors in a living room, but you can add them to a bedroom, like an inswing French Door for additional light.  
5. Light-Colored Floors 
As with walls, light-colored floors can help reflect light and illuminate a home with natural light. Floors don't have to be white like walls often are, but light wood floors and light-colored rugs can brighten your space.  
Ceramic tile or stone floors with a polished finish in light shades will reflect natural light well, too.  
6. Front Doors with Windows 
A front door with divided lites, a transom, and/or sidelites can bring in natural light while adding some curb appeal to your home. TruStile®, a Marvin® brand, has more than 80 entry systems across eight architectural styles.  
7. Angle Furniture 
Light-colored furniture angled toward a window can better reflect natural light than furniture that isn't angled. If you have dark-colored furniture, try finding light-colored slip covers or use light-colored blankets and pillows.  
8. White Curtains 
Light weight and white-colored curtains work best to increase natural light. 
9. Landscaping 
One area that gets overlooked is outside the house and your home's landscaping. If you have shrubs near windows, keep them trimmed to allow light into the home. Considering planting other vegetation that grows low, too. Take note of any tree branches that cast big shadows and block out sun rays.  
10. Skylights 
Adding a skylight can quickly increase natural light and it's a great idea if you don't have room to add more windows or patio door. Skylights bring in brighter light and the direction the skylight face makes a difference. Skylights in north-facing rooms can have cooler, neutral light compared to southern-facing rooms where there can be more direct light.  
Let Marvin Replacement help you find the right combination of windows and doors to envelop you in natural light. 
---
Back to All Articles