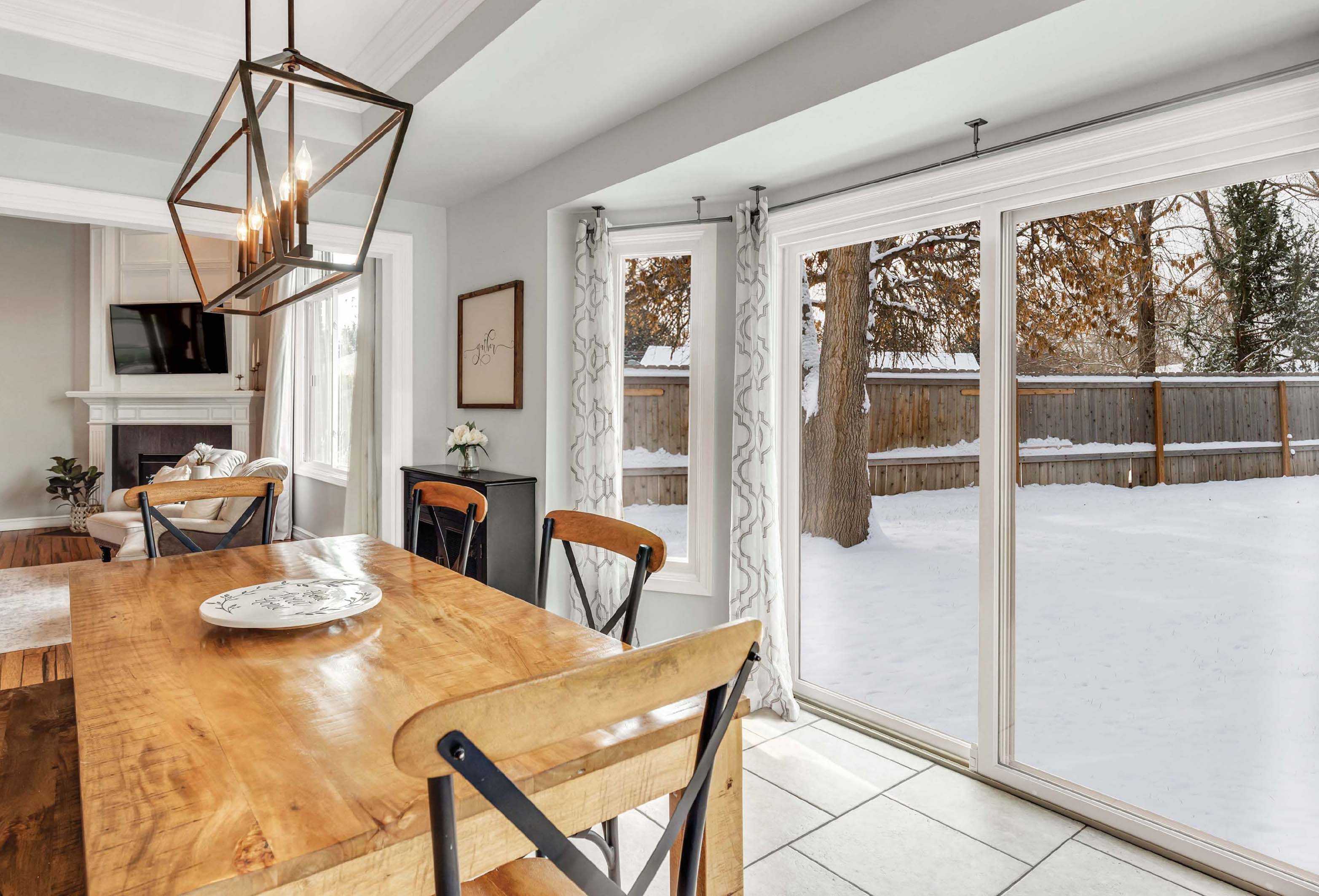 8 August 2022
How to Prep Sliding Glass Doors for Winter
---
Marvin Replacement patio doors require virtually zero maintenance but if you live in a cold climate and have an aging patio door, there are a few simple things to do to help prep your sliding, swinging, or folding glass doors for winters.
Clean patio door tracks
Anyone with a patio door, especially an older sliding glass door, knows that even just a little bit of dirt or debris can disrupt the door's movement. If you've got a patio door that doesn't move smoothly, chances are that it might not close properly, leaving gaps for air to penetrate. Here are some easy cleaning tips:
· A soft bristle vacuum cleaner attachment can help remove the big stuff while a damp non-abrasive cloth can remove the finer dirt and debris.
We recommend that you give your Marvin Replacement patio doors an annual inspection and cleaning.

It's important to check the weatherstripping, finish, exterior caulking, and hardware each year and just before winter is a good time.

Our Ultrex® fiberglass can be cleaned with an approved cleaning solution, water, and a non-abrasive cloth.
Remove patio door screens to protect them from snow
If you live in a snowy climate it's important to remove your patio door screens before the snow falls. Snow can accumulate on sliding glass door screens and cause them to sag, potentially shortening their lifespan. After you remove your screen, store them in a cool, dry place away from any objects that could potentially damage them. Cleaning screens is often a good idea as you prepare to store them away.
How do I insulate sliding glass doors for winter?
Sliding glass doors present an opportunity for cold air to infiltrate during the winter and decrease your home's energy efficiency. Options for insulating a patio door seem limited but there are a few things you can try to help.
Thermal patio door curtains
Thermal curtains for patio doors can provide additional insulation for homes because they typically have a foam core and vapor barrier. They can block heat transfer and when closed they can have an R-value between R-3 to R-5, which is close to the same value as an inch of fiberglass batt insulation. R-value measures the capacity of a material to resist heat flow. The higher the R-value, the greater the insulating capability.
Do you need thermal curtains? Not necessarily, if you have a Marvin Replacement patio door.
Marvin Replacement offers four types of glass coatings that help a home's energy efficiency in different types of climates.
Shrink wrap film
Like thermal curtains, shrink wrap kits can help prevent leaks in older patio doors by creating a seal around the sliding glass door.
Weatherstripping
Weatherstripping is designed to seal a door to prevent and reduce the possibility of air and water from entering a home, which makes it important that it remains in good condition. Replacing shoddy weatherstripping can help seal up your home to prevent energy loss.
Caulk
Caulk around the exterior and interior of your sliding glass door needs inspection prior to winter to ensure it remains in good shape. Caulk helps keep drafts out of your home. Any old or shredding caulk needs removal and new caulk applied.
Is it time to replace your sliding glass door?
If you can't stop drafts from coming through your patio door or you have more serious issues, like water leaks or water stains, it's time to consider a new sliding glass door. Here's what else to look at to know when to replace patio doors.
*Values are based on comparison of Marvin Replacement double-hung window U-Factor for clear dual pane glass non-metal frame default values from the 2018 International Energy Conservation Code "Glazed Fenestration" Default Tables.
---
Back to All Articles